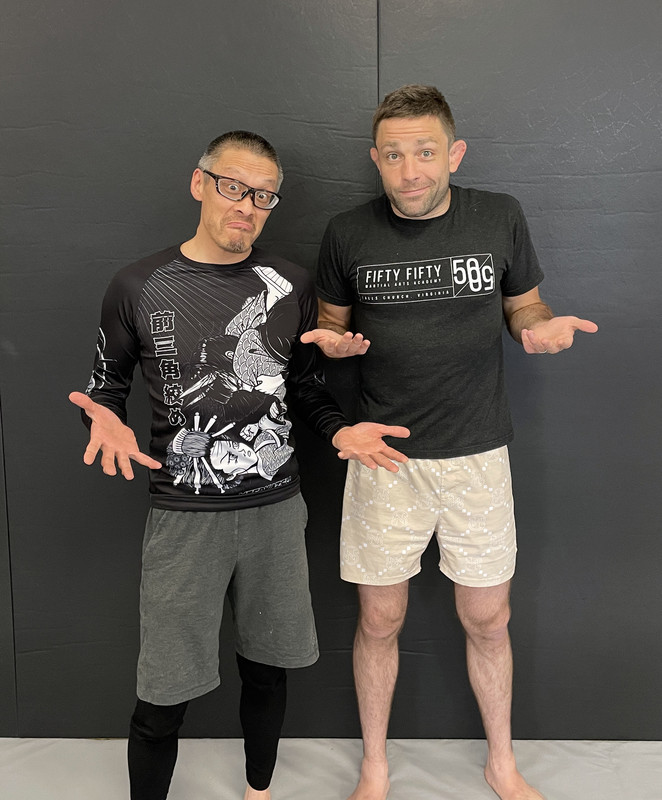 Our club RGA South Herts just had a great seminar with the awesome Ryan Hall today. For those familiar with my blog, I've been studying and writing about Ryan's tutorials since 2013 (eg my Inverted Guard review). As you can imagine, I've been a long-time admirer of his concept-heavy approach to teaching jiu jitsu as well as his outstanding grappling and MMA achievements. So it was a real pleasure to finally meet him in person and learn from the man they call The Wizard!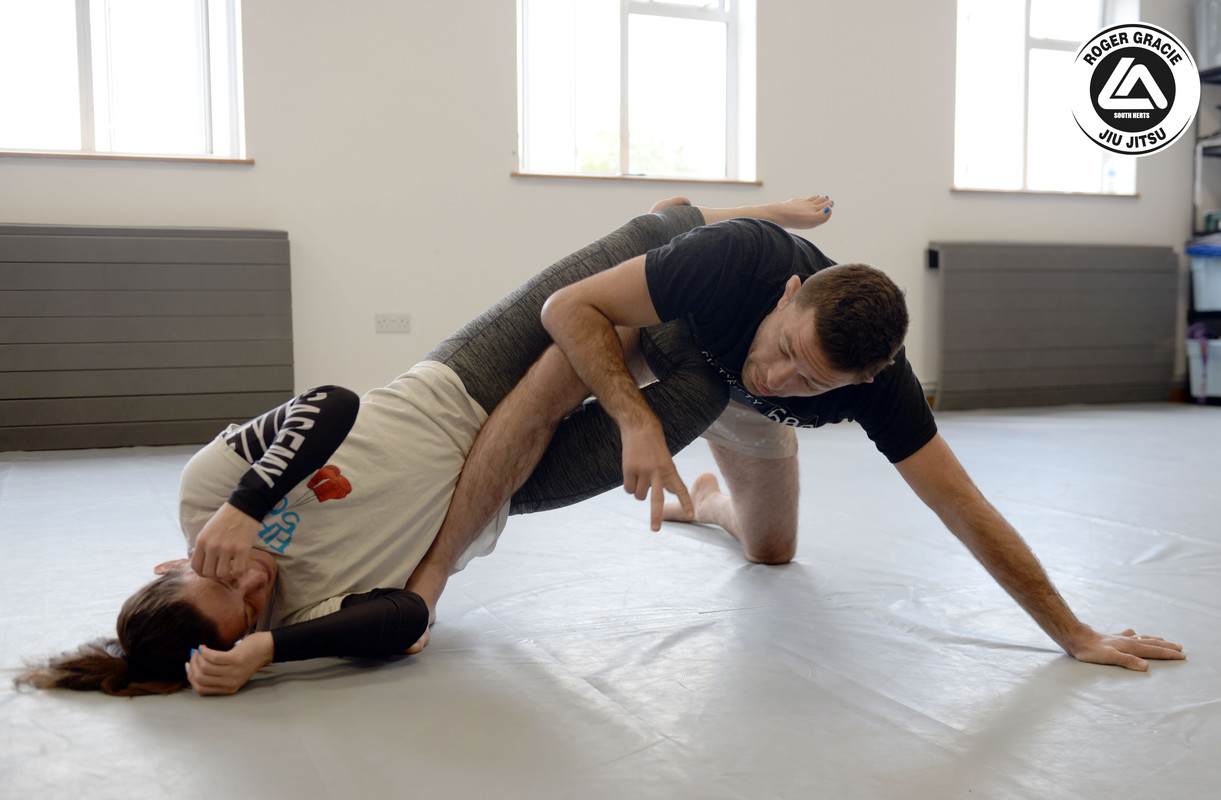 All About That Base
Ryan dedicated the session almost exclusively to the concept of base – and applied it to passing the 50/50 guard. In the photo above he demonstrates the tripod-like structure that he advises us to use when faced with a 50/50 guard player intent on sweeping you. With equal distribution of body weight applied to each limb touching the floor it would be very hard for the guard player to execute a sweep.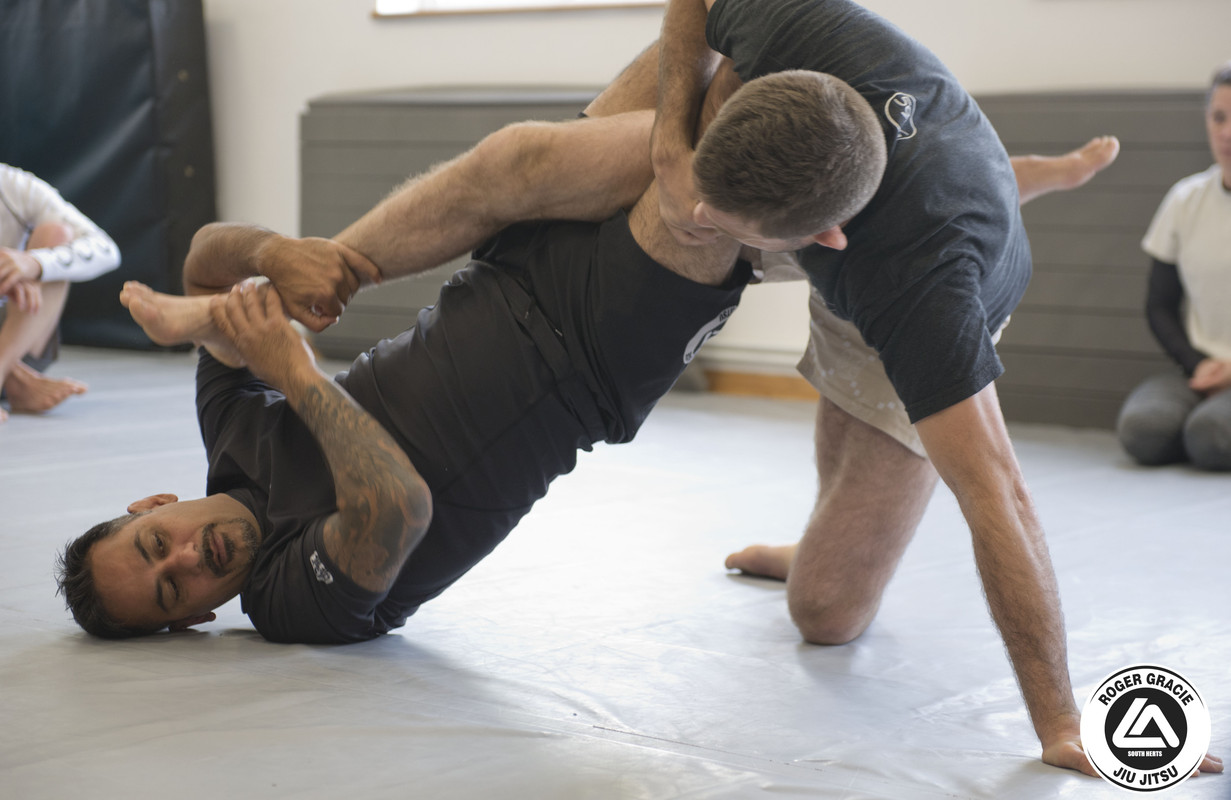 One common reaction for the guard player is to try to place your lead leg over to the other side of their body and reach for the heel hook (photo above). Ryan advised us to not necessarily resist that motion – in fact it was fine to let it happen. The danger would only become apparent if your foot was placed exactly where the attacker wanted it. So in this scenario, the best place to land your foot far away from their hip line (photo below).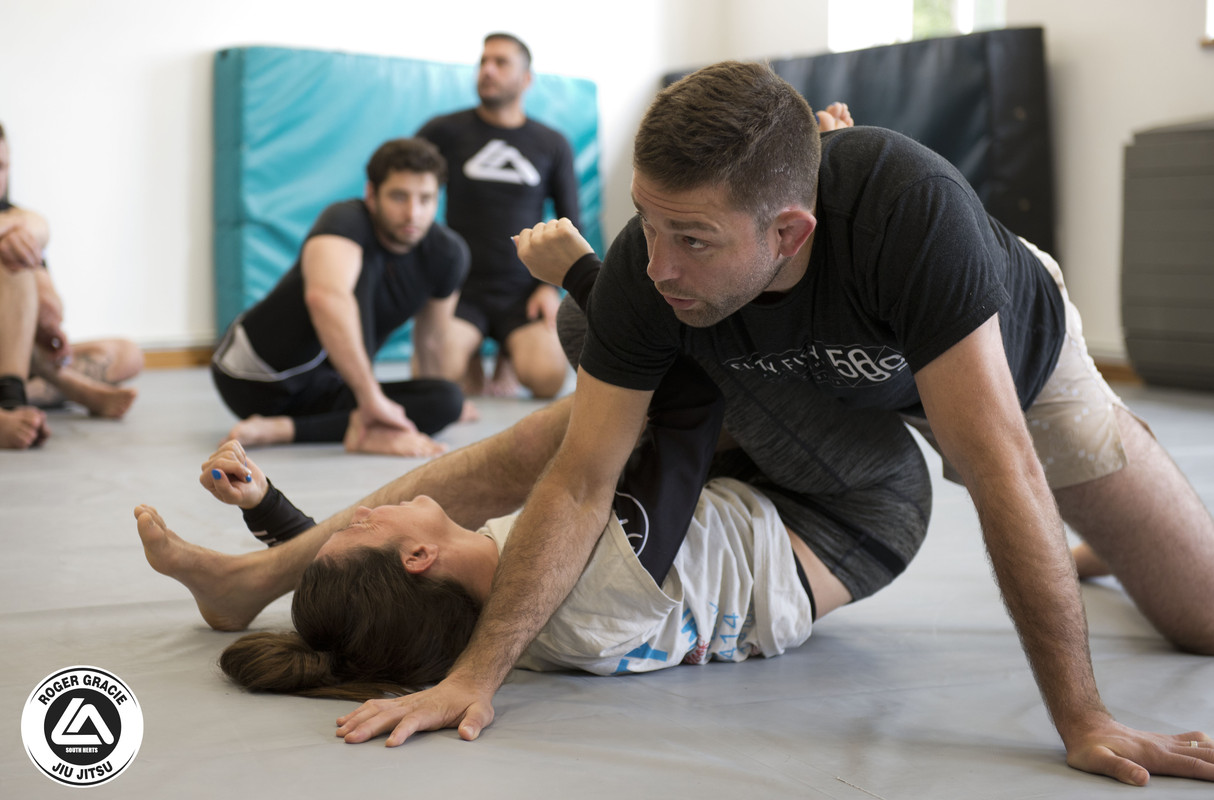 From here it became very apparent that we were halfway towards an effective way to pass the guard – all while maintaining a rock solid base. Ryan emphasised that in order for a sweep to occur, it would only happen if we altered the distribution of our body mass. A sweep after all was our mass falling into space, and in order to make that happen, the attacker would need to put their body mass underneath ours.
The next phase of the pass got even more interesting. Ryan talked about the spinal twist needed to control his opponent but he didn't advise us to apply full bodyweighted crushing pressure. Instead, he was more concerned that we maintain our base and stability. He showed how to use just enough pressure on the shoulder diagonal to the hip being affected by your weight (both photos below).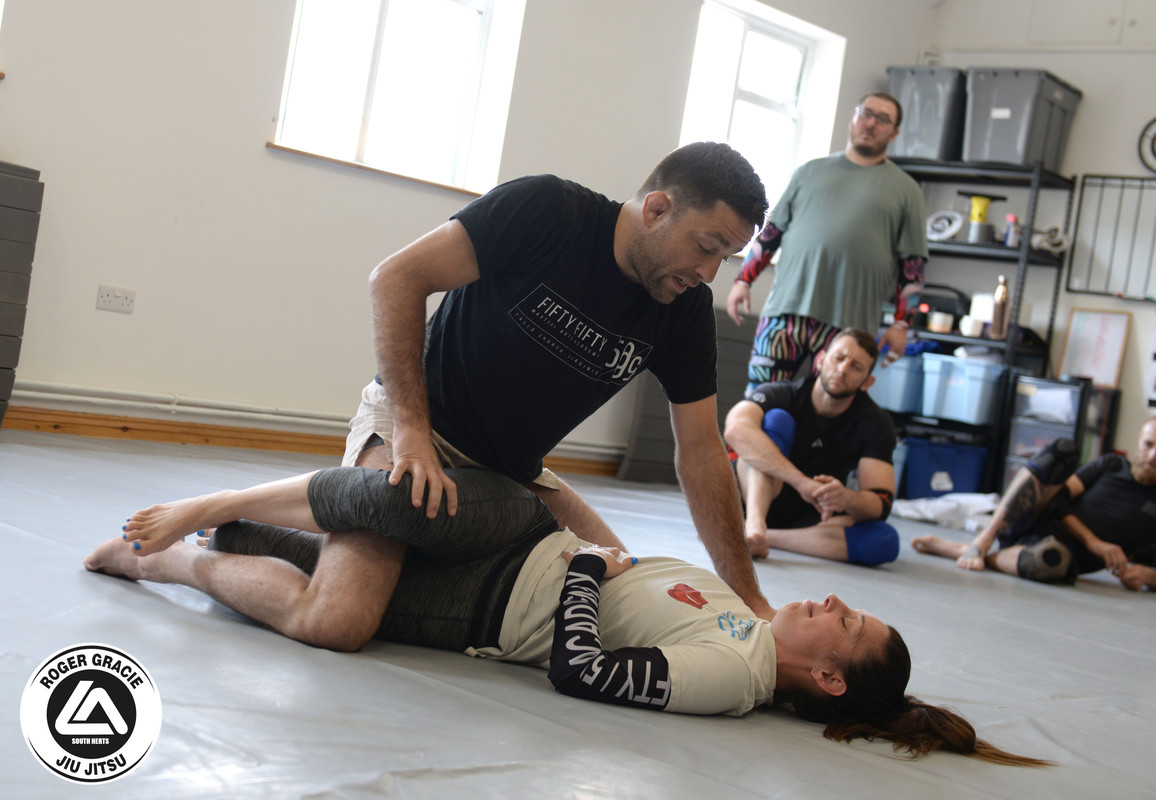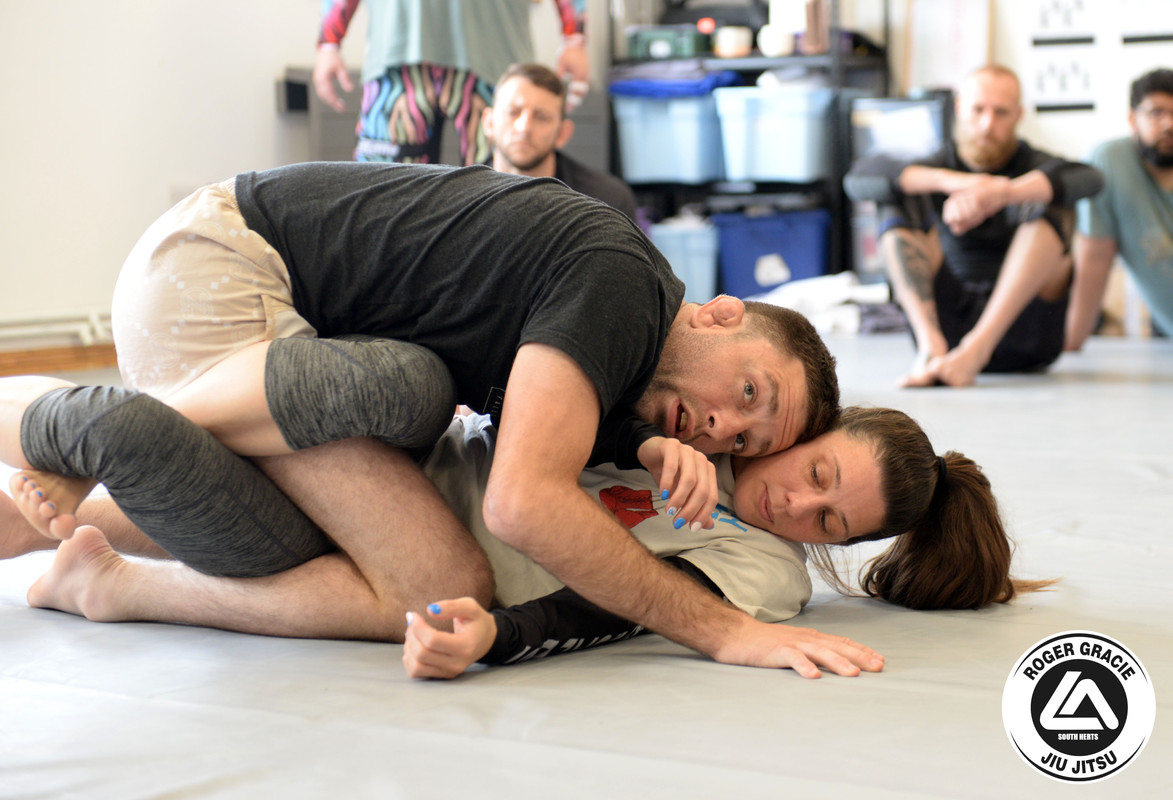 If you've studied any of Ryan's instructional videos you'll know that Ryan spends a great deal of time explaining the concept or concepts he is teaching. He uses a lot of analogies to illustrate the ideas – analogies that range from scenarios in other sports (boxing is a favourite but he also referenced Football, baseball, other martial arts etc), he also references movie scenes, guns, angry bees and deadly cars, Chinese burns!…pretty much the first thing that pops into his brilliant mind will be used as a reference point to help illustrate the jiujitsu theory. It makes for a very entertaining and imaginative learning moments.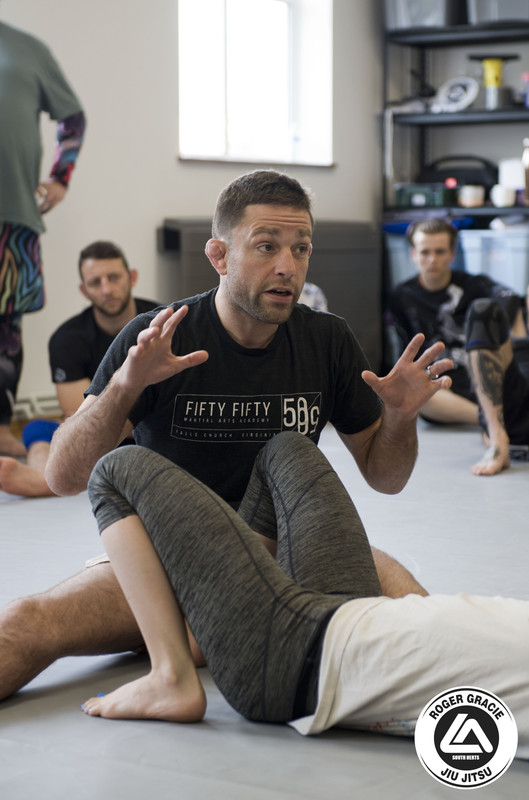 Ryan also took time to cover some ideas on leverage – what it actually means in jiu-jitsu terms. His theories are based on basic scientific principles. I'm sure he even quoted Newton's second law of motion at one point. One of the applications he demonstrated was the simple one of placing your hand deep behind your opponent when on top position (it could be side mount but it works equally well passing 50/50 guard). He explained that this was simply him applying greater leverage on his opponent and magnifying the force he could apply compared to top position without the hand in place. When we tried it, it worked quite miraculously. I mean, I always knew that hand position was a thing, I just never had it explained to me before like Ryan explained it.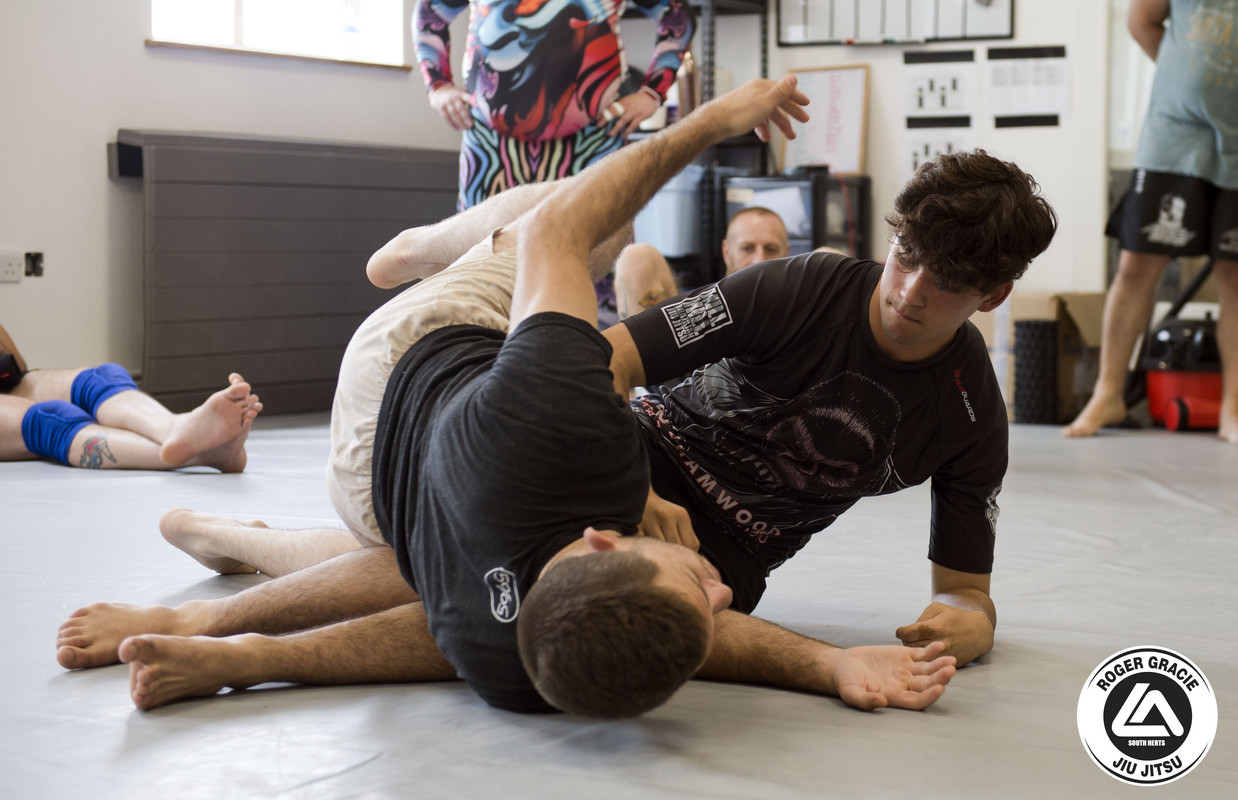 Another cool takeaway moment for me was when I asked Ryan about the vulnerability of a kimura attack when trying to pass 50/50. He used that opportunity to talk about sub escapes in general. When an attacker grabs hold of part of your limb, the instinct would be to move away from the danger. But, and here Ryan used a horror movie analogy, it's always the single person who decide to go outside on their own who is the one to be picked off next by the monster. And so it is true with limb attacks – often it is far better to keep your limb as close to your body and move in towards the attack, not away. In the photo below, wife Jen locks on a kimura attack to Ryan's right arm, but Ryan directs his body into the attack, neutralising anything Jen tries to do.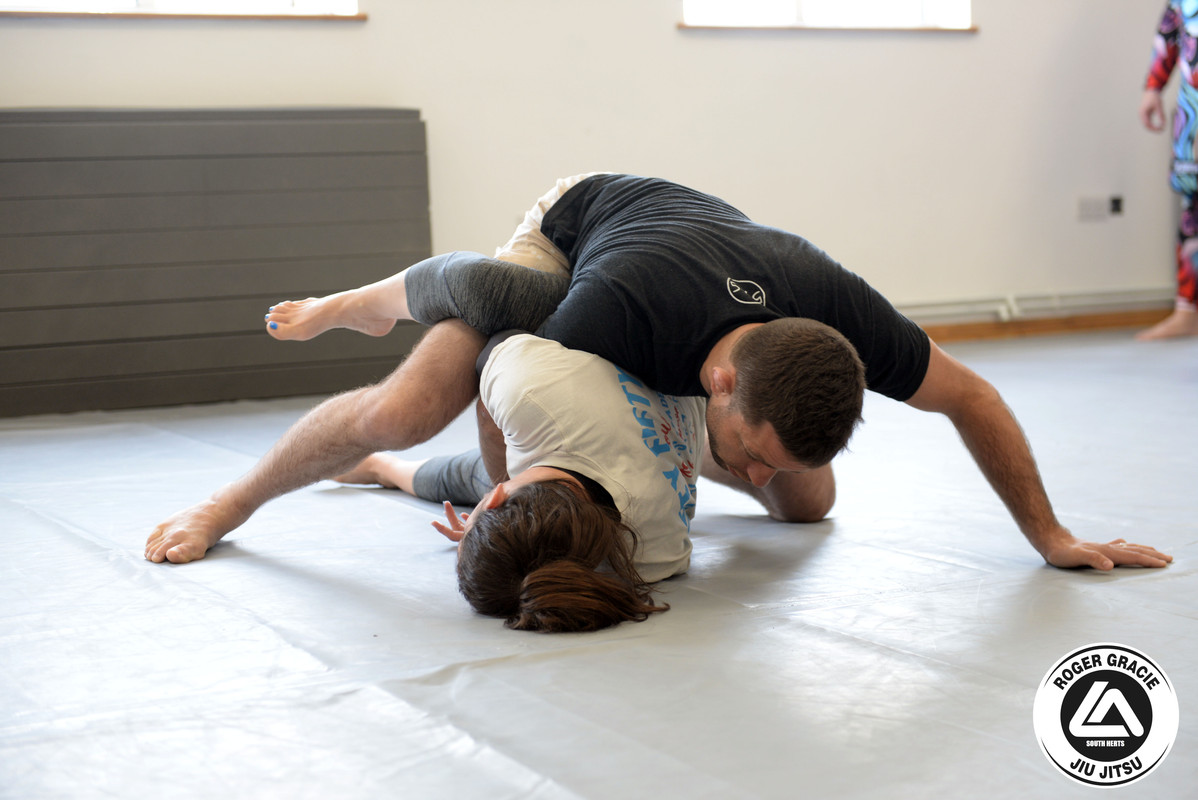 Ryan showed a lot more than I have described in this report. As noted before, Ryan takes a lot of time to describe his theories so I'm still processing a lot of the information he gave. He also was generous with the q&a section at the end, answering all our technical and conceptual queries. Ryan is a good story teller and of course he was happy to share many stories about his past exploits in grappling and MMA.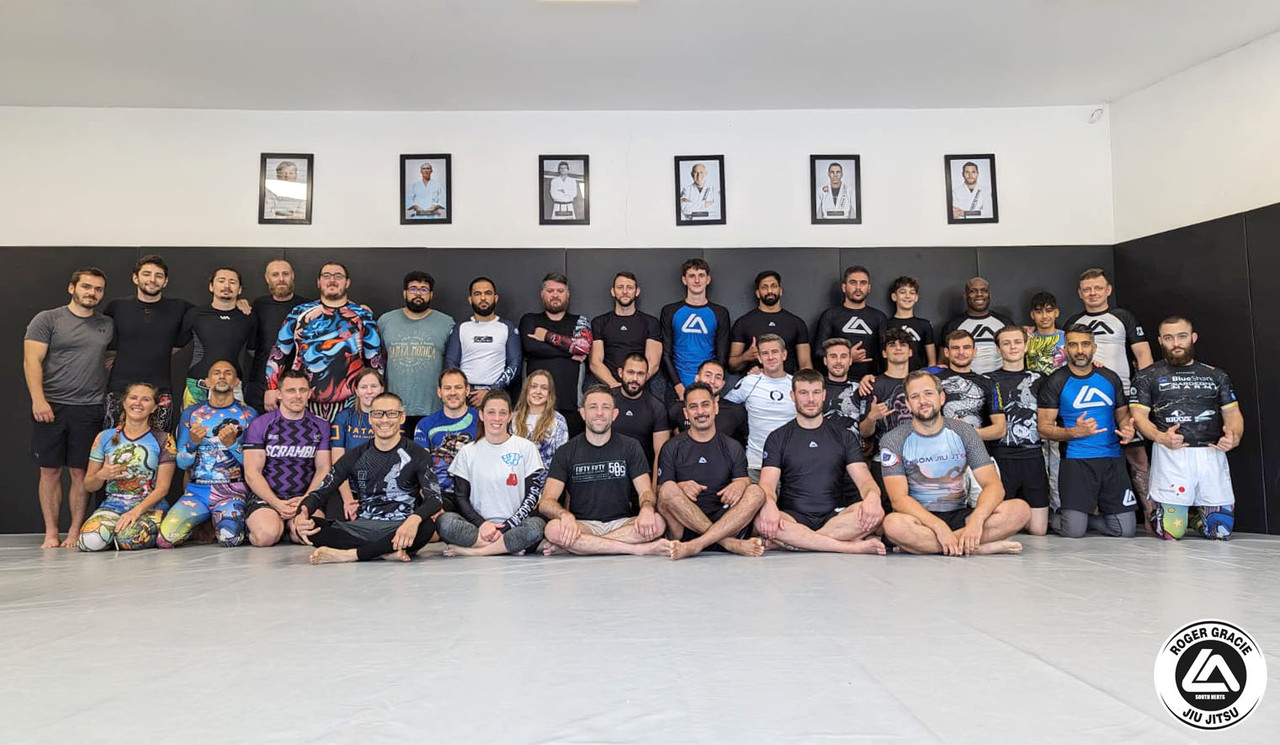 Both Sandeep and I have been huge fans of Ryan for a long time so it was wonderful to meet Ryan and Jen and to learn some genuinely excellent concepts and techniques today. The next time he's visiting the UK we are most definitely having him back!!